Overview
The SYSTRAN machine translation connector allows you to use SYSTRAN machine translation in all Trados Cloud-based products, including for example Trados Team and Trados Enterprise. Note that you need your own SYSTRAN Translate Pro account or access to a SYSTRAN Pure Neural Server instance, in addition to purchasing the connector.
Usage Instructions
To use a machine translation connector in Language Cloud, you need to add it to a Translation Engine.
Open the translation engine to which you want to add the SYSTRAN connector and click Add Machine Translation Model. You will now see all the SYSTRAN profiles that match the translation engine's language combinations. Select one or more SYSTRAN profiles and click Add to add them to the translation engine. Now save the translation engine.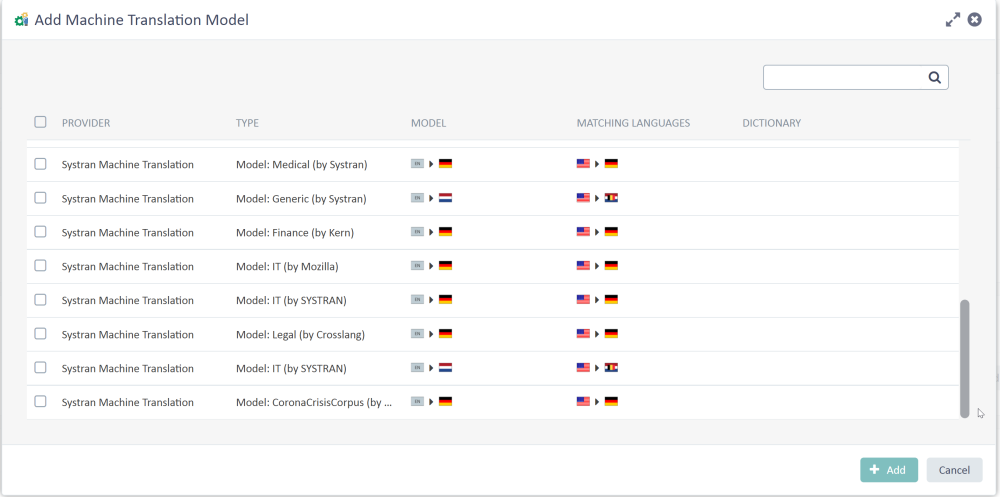 Now, when you use this translation engine in a cloud project, the selected SYSTRAN profiles will automatically be used to apply machine translation during project preparation and also when translating in Trados Online Editor or Studio.
Installation
The SYSTRAN connector is an add-on for Language Cloud. Such add-ons need to be installed via the Language Cloud AppStore.
Navigate here to open the Systran connector in the AppStore now, click here: Go to SYSTRAN add-on on the RWS AppStore.
Now, click Install. You will need to provide the following settings:
CodingBreeze activation key: this is the activation key you received when purchasing the connector. You can find the activation key in your CodingBreeze account.
SYSTRAN API key: this is your SYSTRAN API key. You can get it from the Personal Info section when signing into your SYSTRAN Translate Pro account.
SYSTRAN API url: this is the base url for the SYSTRAN Pure Neural Server API, for example https://mysystranserver:8904. Leave blank if you want to connect to SYSTRAN Translate Pro.

Now, click Complete and you are ready to go.
Support
If you have any problems installing or using the SYSTRAN connector, contact support@codingbreeze.com.